Marissa Farrell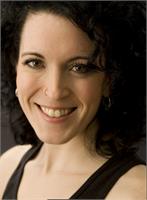 Marissa has been studying the art of movement through dance, martial arts, fitness, and yoga, since she was a child. After nearly 20 years of experience teaching yoga in and around Boston, MA, she has synthesized her work into the InHara System.
Beginning in 2004, Marissa began attending childbirth as a certified professional doula to help in any and all ways through support, advocacy, and education.
In 2013 she created The InHara Practice. Workshops followed soon after providing a system of movement for women to reconnect with their most primal portion of the body, the pelvis. Around town, Marissa is known as "the Vagina Lady", a title that fits the InHara System well.
Marissa returned to school in 2014 to study massage therapy at The Bancroft School of Massage Therapy and directly after following a 10 year dream, to study The Arvigo Technique of Mayan Abdominal Therapy under the watchful eye of the program creator, Rosita Arvigo.
Marissa is a wife, mother of 2, a step-mom, and is found happiest hiking, cooking, and chasing her dog in the woods.
Marissa Farrell is currently not instructing any classes.