Sharon Prybyla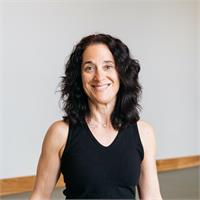 I have been practicing yoga on and off for almost 10 years. I came back to yoga about 4 years ago when I was dealing with pain from running and other high impact activities. When I first came back to yoga, I was mostly focused on what it could do for my body. I quickly started to realize how much better I was feeling in all aspects of my life. I wanted to deepen my practice and became certified under Andrew Tanner and Laura Ahrens with the New School of Yogic Arts. My hope is to guide and empower students to discover all the benefits of finding their true self through breathe and movement.
Sharon Prybyla instructs the following:
Aerial Yoga Stretch & Strengthen (formerly Level 1) classes are for beginners to aerial, or a relaxing way for advanced practitioners to stretch out and relax at a slower pace than advanced classes. If you've never experienced Aerial Yoga, we strongly reccommend you to attend the Aerial Yoga Basics class before attending any other Aerial Yoga class, for your comfort and more ease in your practice, as you are learning.

In this class, you will practice all the main poses and beginner transitions for Aerial, which will especially build your upper body and core strength, and prepare you for intermediate and advanced Aerial classes :) As always, we will finish with a restful and restorative savasana.

Please note the below contraindications.

This class is not safe for individuals with any of the following conditions: Easy onset Vertigo, Fainting, Carpal Tunnel Syndrome, Sinusitis, Recent Stroke, Botox(within 6 hours), Recent surgery, Glaucoma, Hypertension, Carotid Artery Stenosis, Hiatal hernia or spinal instability, anyone taking anticoagulants or aspirin therapy, high or low blood pressure, history of heart conditions of any kind, pregnancy beyond the first trimester, more then 50lbs over weight, epilepsy, eye pressure problems, inner ear problems, other conditions - check with your doctor if it is ok for you!!

*If you need to cancel a booked class, you must do this 24 hrs or more before the class start time, otherwise, it will still be deducted from your class pass / drop-in. We have put this policy into place because of the limited space available in each class, and for anyone on the waitlist to be notified with enough time of an opening. Thank you!




The Flow Yoga class is open to everyone, regardless of practicing experience. Although if you are not familiar with yoga at all, we do reccommend you taking a Slow Flow, Taoist, or Yin Yoga class first. Basic postures will make up the flow in this class, with advanced variations being offered for our more seasoned yogis. All-Levels classes will include a short meditation to focus the mind, followed by a flow sequence to strengthen and relieve tension in the body, and will close with a savasana, deep relaxation of the body and mind.