Georgia Zafferes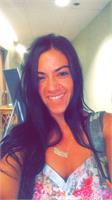 In Georgia's class, her students can expect to completely let go of whatever they are holding onto emotionally and physically. She loves offering a variety of options in each pose, so that everyone can feel they are able to move in the way their body needs most in that moment. Georgia enjoys experimenting with music in her class, as a way to deepen the practice and awake emotions through auditory sensation. Georgia aims to connect her students breathing with the movements of their bodies, allowing their minds and bodies to relax and reconnect.
Georgia Zafferes instructs the following:
The Flow Yoga class is open to everyone, regardless of practicing experience. Although if you are not familiar with yoga at all, we do reccommend you taking a Slow Flow, Taoist, or Yin Yoga class first. Basic postures will make up the flow in this class, with advanced variations being offered for our more seasoned yogis. All-Levels classes will include a short meditation to focus the mind, followed by a flow sequence to strengthen and relieve tension in the body, and will close with a savasana, deep relaxation of the body and mind.