Slow Flow
This class is taught by: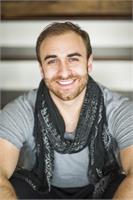 Founder and Director of Elements3 Yoga. An entrepreneurial yogi with a light hearted approach. He began his yogic teaching over 10 years ago in a form of Taoist yoga and healing under Jae Hun Lee, spending five years living a monk-like life with eight other disciples in the midst of crazy New York City. Andrew later went on to train with hatha yoga master Dharma Mittra and Andrei Ram for 4 years and completed the Dharma Yoga 200- and 500-hour teacher trainings. Andrew's classes will stir your body and soul. Expect yourself to laugh at enlightenment and not take oneself too seriously. Andrew's background in Religious History and Psychology allows him to relate the ancient practice of yoga with the dramas of our everyday lives, leaving us inspired to pursue our highest self. His strengths as a teacher include inspiration, humor, teaching beginners, inversions, and hands-on assists. Andrew also travels and speaks regularly for the Yoga Alliance. More info at andrewtanner.com
As an instructor, Lauren looks to get students tuned into their bodies', encouraging them to explore their edge while honoring their limitations. She believes that when we turn our focus internally and become intimately connected to how we feel and who we are, we can experience life more deeply and fully.
Lauren has a steady, grounded presence that has been strengthen through her own personal practice of yoga. She first tried yoga in 2012, looking for low-impact workout, but over the years she realized that yoga had a tremendous impact in other aspects of life off the mat. Her practice helped her reduce stress, increase her health, create more balance in her life, and cultivate her own intuition.
In her Slow Flow class she looks to guide students through graceful and deliberate movement paired with breath, building postures from the ground up for an embodied yoga experience. She takes an all-levels approach, helping beginners create a solid foundation for their practice, while allowing more experienced practitioners dive deeper into their own practice.
Lauren completed her 200-hour yoga teacher training under the guidance of Andrew Tanner and Laura Aherns and credits much her personal growth in the last year to the entire E3 family of instructors.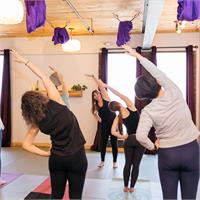 Slow Flow will take you through a vinyasa flow slowly and gently. This class is suitable for any fitness level. Enjoy!
Upcoming classes: